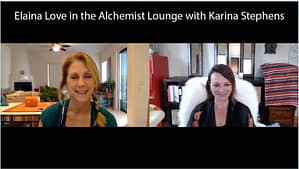 I am super excited to share my interview with Elaina Love.
Elaina is one of the pioneers in the plant based eating movement. She is founder and director of Pure Joy Planet, a plant based, raw food culinary academy.
Elaina's teachings focus on low carb, healthy fats, and full flavoured holistic plant food. Elaina is one of the most generous people I know. She has an enormous heart for people and lives her passion.
She is such an inspiring example of what it looks like to love a holistic lifestyle.
In this conscious conversation we covered so much:
How to manifest the life you want by changing your diet
How to eat healthy when you are travelling
How to get started eating a raw food, plant based diet
Reversing the ageing process
What to do when your family doesn't support your new lifestyle
How to begin to transition to a clean toxin free life
Watch the interview now:
You know I believe that the right food is one of the most powerful alchemy resources we have on this planet. We can transform our lives from the inside out by making simple change to how we eat. And the best thing is that it doesn't have to taste terrible. Elaina teaches us how to be culinary chefs in our own home and create totally yummy food the whole family will love.
Listen to the Audio interview now:
You will fall in love with Elaina and probably be finding your way into one of her online culinary classes very soon!
Once you have watched the video then drop me a line and share your thoughts.
Many Blessings,